Additional Resources
---
Download free handouts and resources to deepen your action
Strategy and Action Tools
Get instructions on how to lead tools from The New Jim Crow organizing guide,
such as Spectrum of Allies and the Upside-Down Triangle -- and many more!
Article: Building a Transformational Movement
Read more from the author of The New Jim Crow organizing guide with
visionary insight on the strategic questions of building a radical, transformational movement.
Books
Strategy and Soul
Another book by Daniel Hunter on direct action organizing and strategizing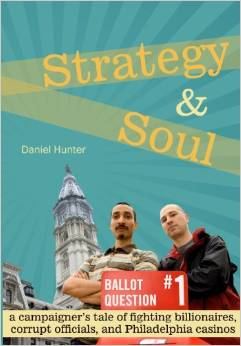 When Daniel Hunter and Jethro Heiko began planning at a kitchen table, they knew that their movement would be outspent by hundreds of millions of dollars. They were up against powerful elected officials, private investigators, hired thugs, and the state supreme court. Even before they started, newspapers concluded the movement had no chance.
This riveting David versus Goliath story is a rare first-person narrative, giving unparalled access to the behind-the-scenes of campaigns: the fervent worrying in late-night meetings, yelling matches behind church benches, and last-minute action planning outside judges' chambers.
It's in the heat of these moments that the nuances of strategy come to life, showing what it takes to overpower billionaires for a cause you believe in.
Written by an experienced and unusually self-reflective direct action organizer, this book might be the most enjoyable way you've ever empowered yourself to change the world.
Order from Amazon.com
or CreateSpace.com
Learn more about the book at www.StrategyAndSoul.org